Main content starts here, tab to start navigating
We know that one of the hardest things about eating out is not knowing what kind of ingredients the restaurant uses. At Fava Pot, we prioritize health, taste, and authenticity -- and we want to be as transparent as possible about our ingredients and sources. Scroll through to learn more about each featured ingredient, how we use it, and from where we source it.
Beef and Lamb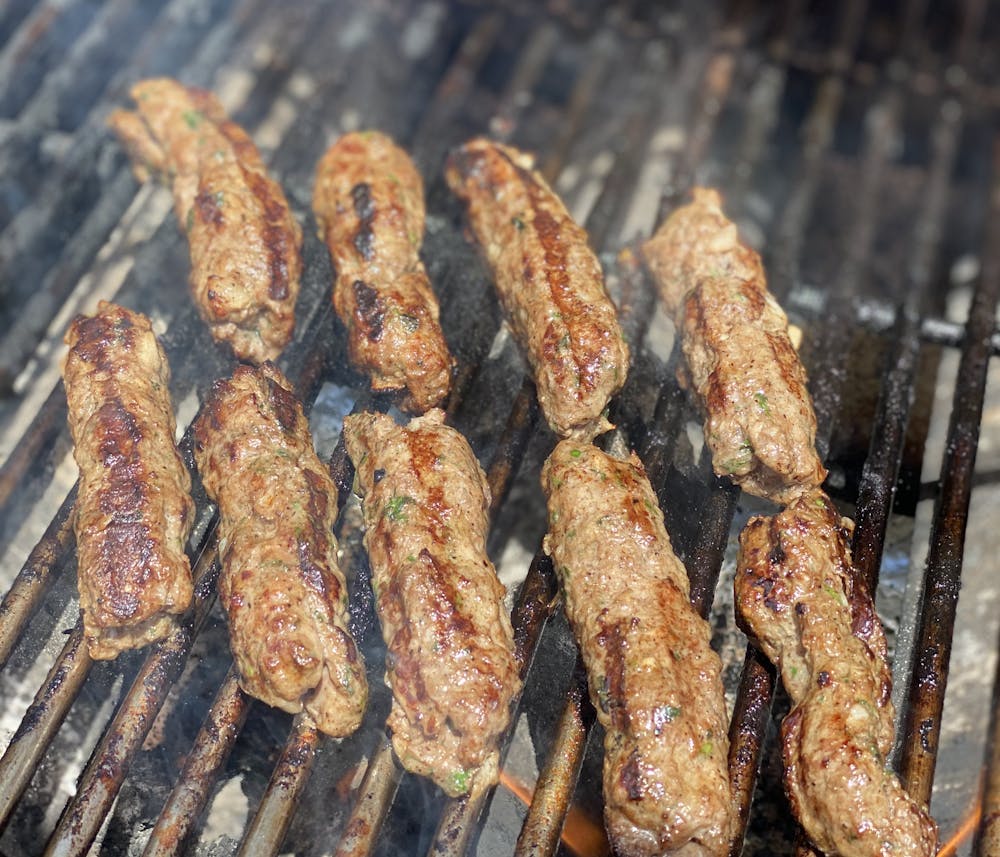 Our beef and lamb are raised without antibiotics or hormones and are halal. We prepare our kofta (beef and lamb patties) an hour before we grill: it is seasoned with onions, parsley, and Mediterranean spices.
Beer
We source locally-brewed beer from Old Bust Head Brewing Company in Warrenton, Virginia. Old Bust Head makes beer the traditional way, without any artificial ingredients or flavors. Currently, we are offering three of their beers: the Graffiti House West Coast Style IPA, the Vixen Irish-Style Red Ale, and a seasonal Oktoberfest Märzen Lager.
Bileela
Bileela is the Arabic word for "wheat berries". We simmer the whole berries on a low flame with cinnamon and pure honey, and it is served as a breakfast porridge with your choice of milk on top. Wheat berries contain the bran, germ, and endosperm of the wheat kernel; as a whole grain, it is packed with B vitamins, protein, and fiber.
Coffee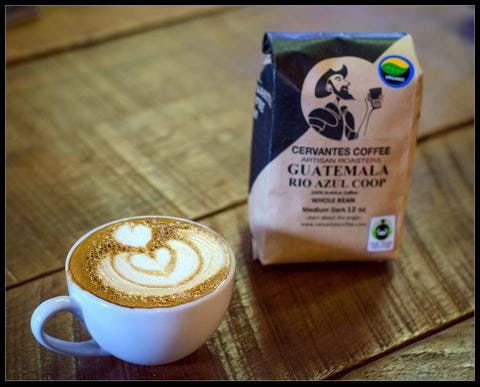 We source our coffee from Cervantes Coffee, a local artisanal roaster headquartered in Springfield, Virginia. Cervantes specializes in single-origin and organic coffees. We source their organic beans for both our regular and decaffeinated coffee drinks. Our espresso offerings currently include: latte, cappuccino, Americano, and double or single shot of espresso
Cornish Hen
Fava Pot uses Cornish hens raised without antibiotics. Our special marinade, which includes yogurt, olive oil, sumac, garlic, and lemon, infuses the tender chicken with a unique, tangy flavor for which we have become famous.
Eggs & Milk
Our breakfast menu features a few different egg-based dishes, and we use milk for all of our coffee drinks as well as for a few other dishes. We source from local vendors to find the best organic goods. Eggs and milk are both excellent sources of minerals, protein, Vitamins A and D, and calcium.
Falafel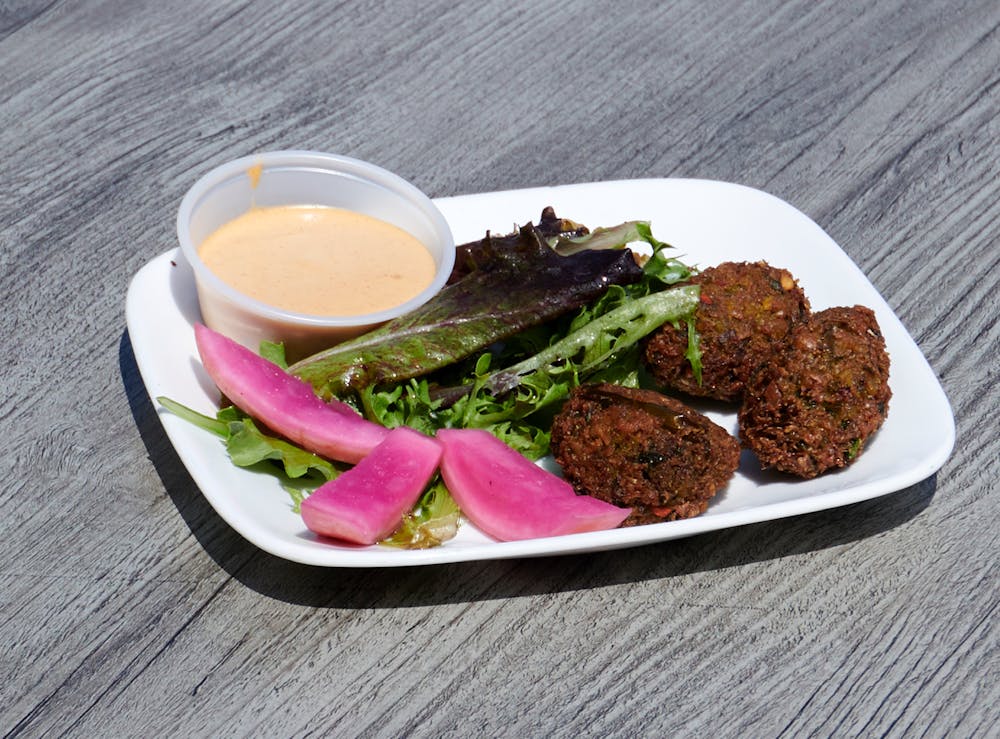 Fava Pot's crispy falafel is made using the Egyptian recipe, using 100% fava beans (instead of the commonly used chickpeas). The split beans are soaked then drained and mixed with coriander, parsley, cilantro, and scallions before they're fried in canola oil. As a legume, fava beans help regulate the metabolism and are a rich source of potassium, iron, and several B vitamins.
Fava Beans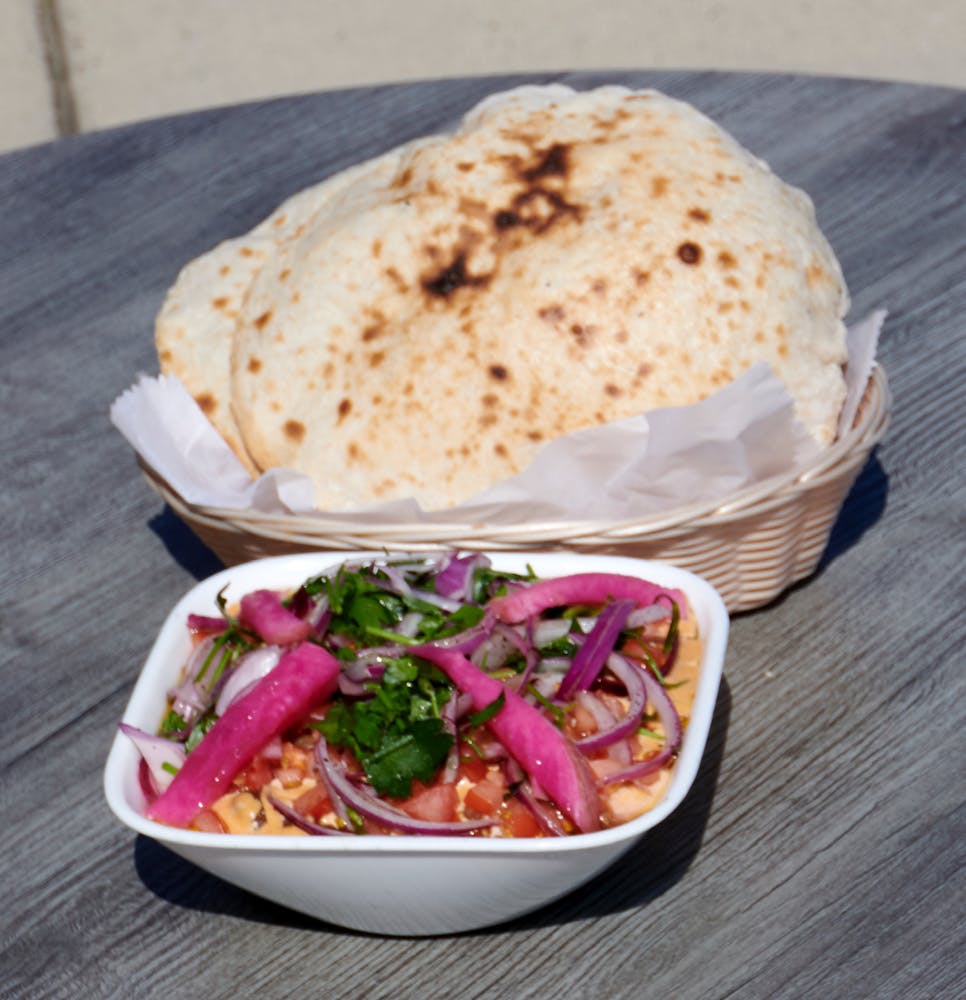 Fava beans, a staple of the Egyptian diet, are high in protein and dietary fiber. When eaten as part of an overall healthy diet, fava beans offer cardiovascular benefits and aid in weight management. We prepare the beans traditionally by soaking first and then cooking them overnight, so they can release their distinctive buttery taste.
Freekeh
Freekeh is a hulled ancient grain made from durum wheat when the seeds are still "milky". The stalks are sun-dried, then burned, giving the seeds a smoky aroma. We call it fireek (feh-REEK) in our Egyptian-dialect Arabic. At Fava Pot, we stuff freekeh in squab (similar to quail). When eaten on its own, we like it to cook it in a meat broth. Freekeh has a relatively low-glycemic-index compared to most grains; it also has prebiotic properties and is higher in protein, calcium, and potassium as compared to brown rice.
Oils & Fats
For many of our dishes, we use house-made ghee, which is clarified butter made from real 100% natural butter. Ghee is lactose-free and imparts a wonderful, rich taste to many of our dishes. For other dishes including the vegan ones and all salads and dips, we use Saifan, a high-quality extra virgin olive oil brand sourced directly from the valleys of Lebanon.
Mixed Greens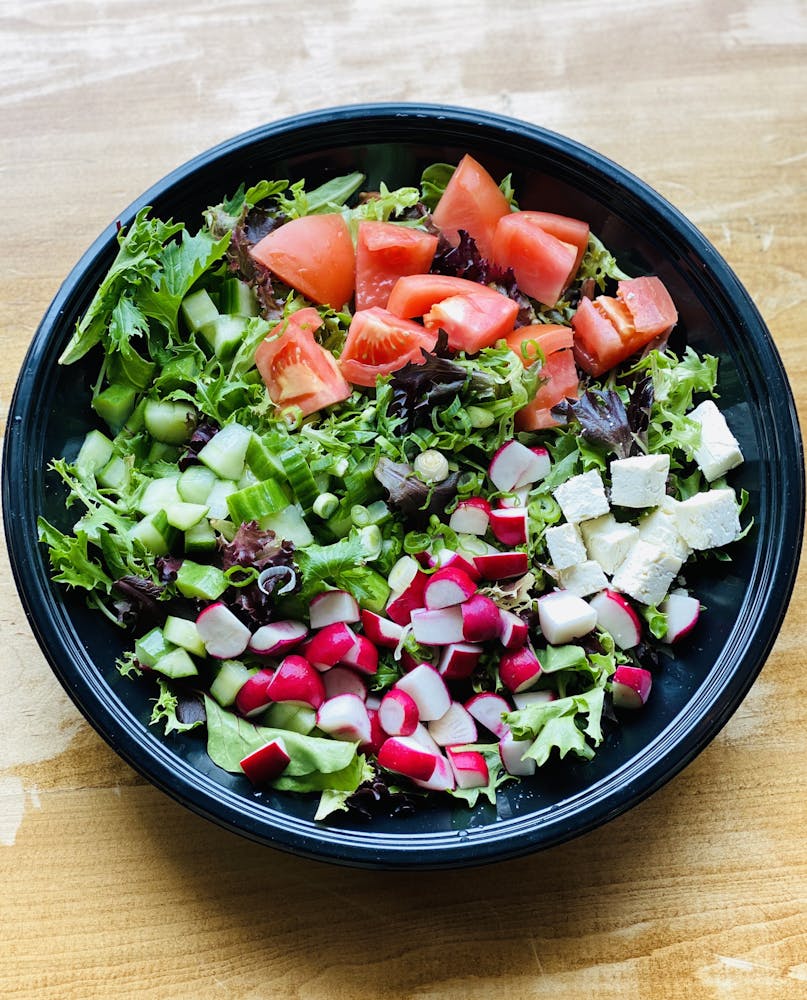 Fava Pot's Mediterranean salad includes organic mixed greens and is high in nutrients, especially iron and vitamins A, C, and K. Salads are high in fiber, help speed up the digestive process, and counteract toxins in the body.
Pita Bread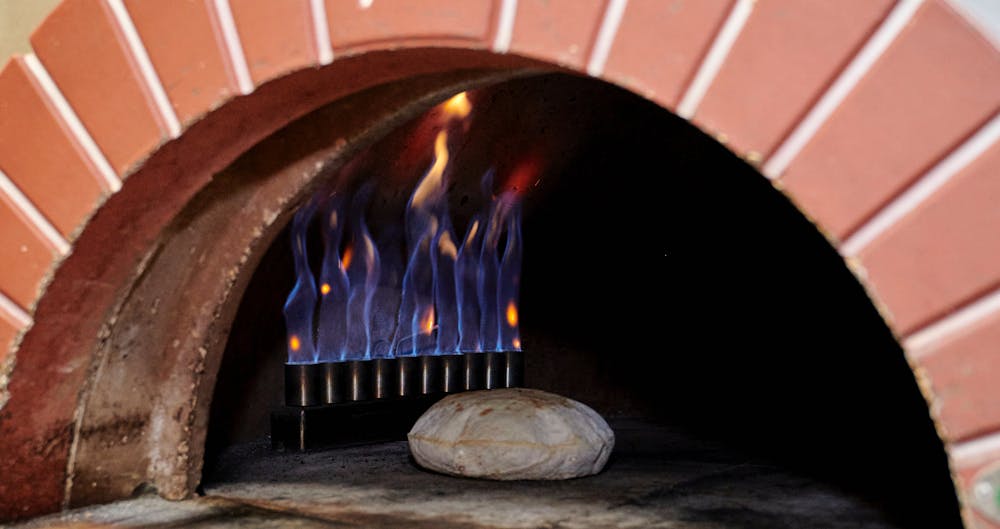 We bake our own Egyptian bread, "Aish Baladi", in house! Our fresh bread is so famous that it's made the Washington Post! The breaking of bread together in the Egyptian and Mediterranean cultures symbolizes a readiness to share what one has with others. We use pita bread in many of our dishes, and it is always offered as a complement to sides like hummus and baba ghanoush. If you follow a gluten-free diet, please ask for no bread.
Roasted Potatoes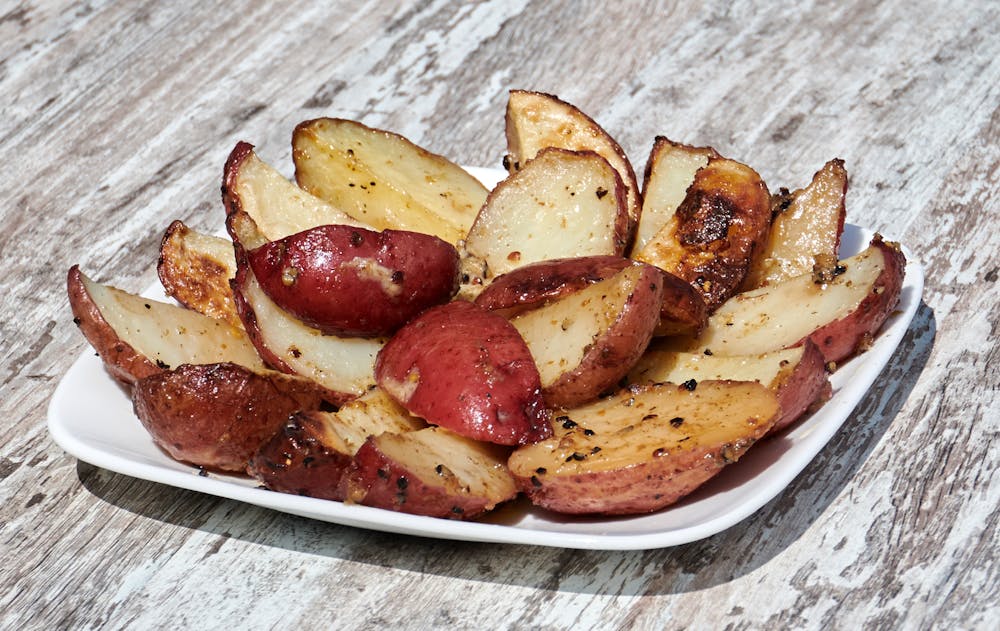 We roast our potatoes, instead of frying them, to extract their health benefits. Roasted potatoes are good for the digestive system and contain potassium, fiber, and vitamins C and B6. We season our potatoes with rosemary, zaatar, lemon, and olive oil which creates an unforgettable flavor.
Squab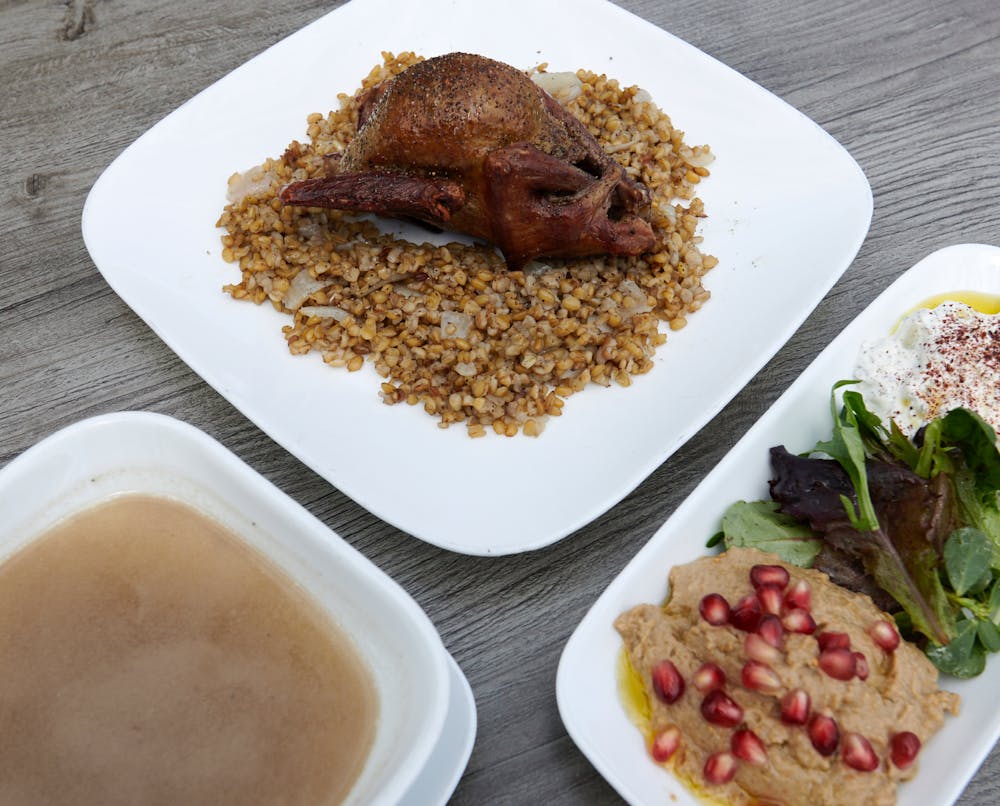 Squab is a young domestic pigeon raised for its meat. It is likened to quail, although it is larger and much tastier. Egyptians enjoy eating stuffed squab on special occasions, and at Fava Pot, we wanted to introduce to it to a broader audience. The taste is similar to that of dark chicken meat, but it's even more flavorful. We prepare it by first stuffing the squab with freekeh (hulled green wheat), boiling it, and then searing it in ghee for a crispy exterior.
Tahini
Fava Pot's creamy tahini is a common ingredient in the Egyptian diet. Tahini is ground sesame seeds, which are a rich source of Vitamin E (an antioxidant), calcium, and minerals. Tahini is featured as the main ingredient in our hummus and baba ghanoush. We also make a tahini sauce by mixing the tahini with lemon juice, olive oil, salt, and spices; it as a dressing that pairs well with our fava beans, falafel, and kofta.
Zaatar
Zaatar is a popular Middle Eastern spice blend made with sesame seeds and dried herbs and spices including thyme, marjoram, oregano, sumac, and sea salt. Its tanginess infuses flavor into our roasted potatoes. We also use it along with extra virgin olive oil as a dip to eat with warm bread.